Preschool in the Forest
From FuturePerfect. Read the entire article here.
Children at Cedarsong Nature School spend their first school years – rain, shine, and snow – in five acres of Washington State forest.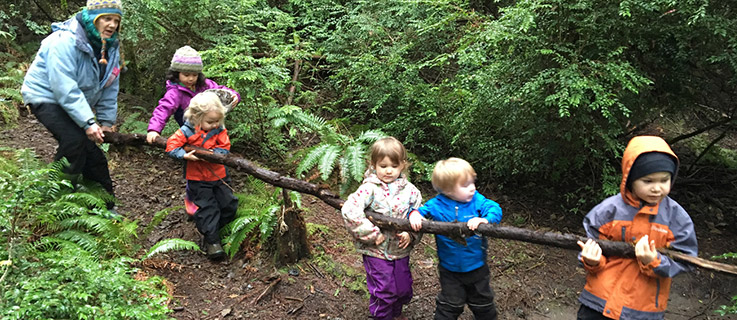 Photo by Karen Olsen, Cedarsong Nature School
For four hours a day, a group of preschool children and their teachers in Washington State head into a forest. Rain, snow, or shine, the children are free to run, play, climb, explore, sit quietly, or play musical instruments. The teachers are there to support children's natural curiosities and exploration.
This nontraditional school setting in the northwestern United States is Cedarsong Nature School, a Forest Kindergarten on Vashon Island. Opened in 2008, Cedarsong is a model Forest Kindergarten program, designed to connect children with the natural world and their place in it.
"My impetus for starting this type of program was to nurture the bond with nature that children are born with," says Cedarsong founder Erin Kenny. "This leads to environmental stewardship. People who are disconnected from nature don't care if the ancient forests are being cut down – they don't care that the Amazon rainforest is being cut down. It doesn't affect them."
*******
Spreading the Forest School Way
Building on her success with Cedarsong, Kenny developed the Cedarsong Way Teaching Method, which is rooted in a philosophy of no predetermined curriculum. Lessons are driven by children's interests and by what the natural world presents on any given day. Teachers act as supports to children's natural curiosity and wonder.
The teacher training program was started nearly five years ago, and educators from numerous countries have now gone through it. "In the beginning, it was almost all educators who intended to start their own Forest Kindergarten," she says. "Now more teachers who have access to mainstream education programs are able to incorporate some of these ideas."
This trend is gratifying for Kenny. "I think the movement is only going to continue moving forward," she says, "if we're careful to include the public schools, older children, and disadvantaged and urban children."
Since Forest Kindergarten is still a fairly new concept in the United States, Kenny created the American Forest Kindergarten Association, a nonprofit to provide guidelines, standards, and continuity for Forest Kindergartens. The association also offers a way for teachers, schools, and parents to connect.
This fits with Kenny's vision for Cedarsong and the teacher training program to raise awareness of the Forest Kindergarten model and spread it to educators everywhere.
"I'd like to see the school continue to be a learning lab that teachers can come to and inform their own practice, or become more empowered and inspired through observing the gold standard in this country," she says. "Thereby spreading the message outward in a rippling effect and using the ideas and principles in programs around the world."