Cal Poly professor Matt Ritter spoke on Cambria's Monterey Pines and other iconic California plants at the regular Forest Committee meeting June 13, 6:30 pm, at Rabobank on Main Street. Read an account of his talk under Forest Related Documents.
His new book, California Plants: A Guide to Our Iconic Flora, celebrates California's rare flora. "It's a call to action for conservation," he said. "I can help people to understand it, enjoy it, and appreciate it. We are only going to preserve what we appreciate."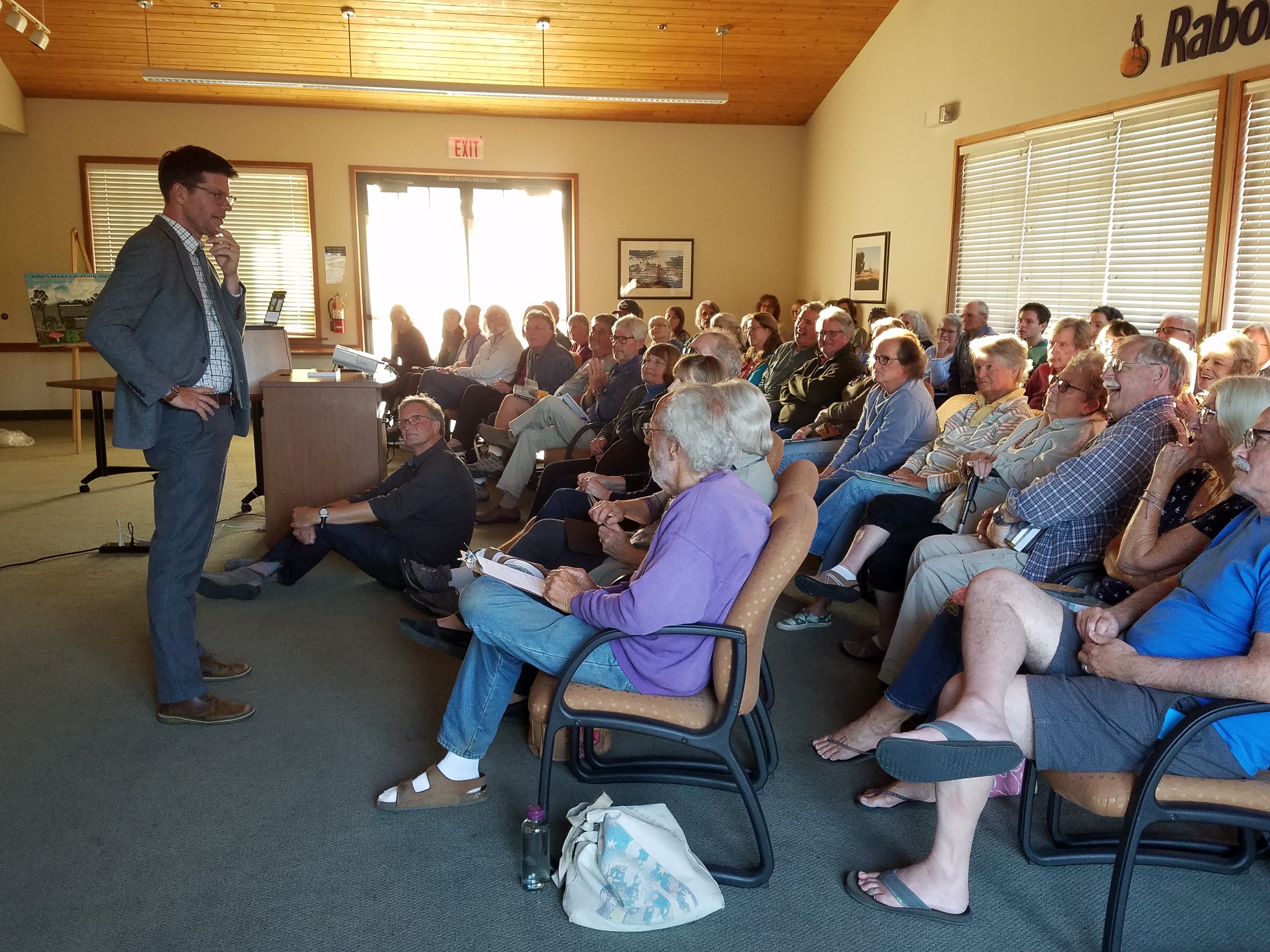 Dr. Ritter organized his talk around four themes: Seasonality, rarity, grandeur, and beauty, exemplified by five plants: Pygmy plant; Camatta Canyon Amole; Monterey Pine; Desert Mariposa Lily; and Coast Redwoods.
Ritter's books
His academic writings focus on Eucalpytus trees, horticulture, ecology, and plant taxonomy.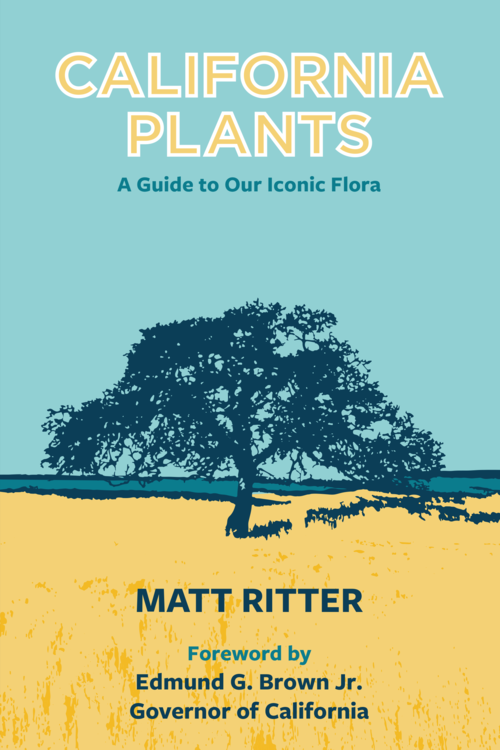 The future of trees
Trees sequester carbon. Dr. Ritter asked a colleague to estimate how many trees would be required to offset each person's carbon footprint. After qualifying many factors, he calculated that every person would have to plant 80 trees a year.
Dr. Ritter told the trees' stories, and he recounts them in his book. Stories can help people learn about the trees, and be inspired to save them.
"I want to help people pay attention to what's around them," he said. "I hope the book helps people to enjoy them. I could go on for hours."
Listeners asked what they could do to help trees.
"Plant more trees, all the time," he said.
Forest Survey by Dr. Sarah Bisbing
Forestry professor Sarah Bisbing reported to us in January on  the effects of drought and disease on demographic processes in endemic Monterey pine.
Cambria's rare Monterey Pine forest is changing as it is exposed to increasingly frequent droughts that stress trees. The forest is not dying, but responding to the stress of extreme climate conditions.
"The recent drought generally took out the weakest and oldest individuals," said Sarah Bisbing, Ph.D, assistant professor of forestry at University of Nevada Reno, "but I'm not concerned about wholesale loss of Monterey Pine. We are continuing to see regeneration and growth in residual trees."
Bisbing will present her findings at the Cambria Forest Committee meeting Wednesday, January 10, 6:30 pm at Rabobank. Her subject is: Drought and disease shape demographic processes in endemic Monterey pine.  The talk is free. The Committee's Invasive Weed Guide will be available for sale, $8. Donations are always welcome. The Forest Committee is a 501c(3) nonprofit organization.
Bisbing is a forest ecologist who has made the forest the focus of her work. She studied data collected between 2001 and 2016 to determine what influenced which trees survived and which ones died.
Bisbing used a measure of climatic stress to evaluate how local climate and environmental factors drive tree response to changing conditions. This metric provides a surrogate for tree stress and is calculated using the local variables, such as total moisture, extreme temperatures, aspect and soil depth. She additionally tracked the influence of non-native pine pitch canker on the forest over time, and discovered that many did not die from infection. Mature trees tolerated infection, while some saplings died.
"Conifers can handle a few years of extreme stress," she said. "They have evolved to grow in more stressful environments deciduous trees can't tolerate."
Over time the forest has continually changed. Historically, Monterey Pine occupied much of coastal California. It expands and contracts in response to climate conditions. Following the last El Nino, for example, many seedlings got started, but few persisted. Seedlings crowd each other out, competing for resources. Only those in the right place and with the greatest access to resources survive.
Monterey Pine has a limited range on the California coast, although it's the most widely planted conifer globally.
"The number one threat to the Monterey Pine forest is human development and urbanization," she said. "This species has nowhere to go."
Every Cambrian lives in the forest. We share our landscape with the trees and wildlife. Donate now to the Forest Committee to defray publication costs of Cambria's Guide to Invasive Weeds. Send a check for $8 (or more) to Cambria Forest Committee, PO Box 23, Cambria, CA 93428.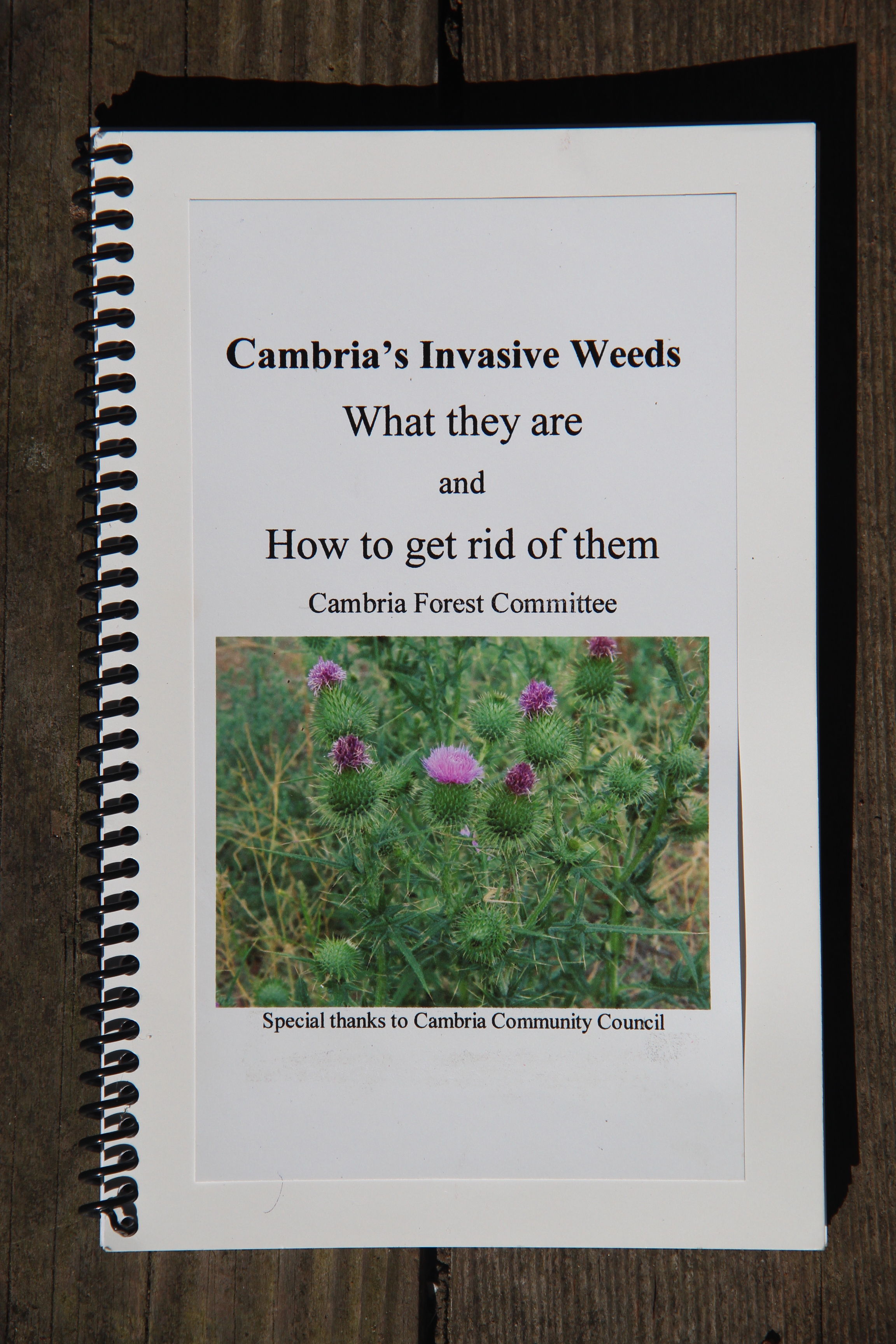 Weeds are taking over landscape and crowding out native plants. Weeds hurt the forest by changing the habitat for wildlife. they increase fire danger. Pull weeds on your own property and help your neighbors. Every weed you pull reduces the number of seeds that will sprout on your property next year. Connie Gannon, executive director of Greenspace–The Cambria Land Trust and a member of the Forest Committee's board, wrote about it in The Cambrian.
Learn more about Cambria's Invasive Weeds by joining iNaturalist  on your tablet or smart phone. Find the Rogue's Gallery of Weeds and add your personal Worst Weed of Cambria. contact us at forest@cambriaforstcommittee.org with questions.
Download a copy of the Forest Committee's brochure, At Home in the Forest, from the Frequently Asked Questions page.
A brochure on Sudden Oak Death is now available on the Frequently Asked Questions page.
Read the Community Wildfire Protection Plan posted under Forest-Related documents.
Volunteer to help the Cambria Forest Committee preserve Cambria's Monterey Pine Forest.
Would you like to pull weeds, get rid of those nasty invasives that are creeping into our forest? Do you have computer skills? Would you like to use your artistic talent to create informational materials that convey the forest's beauty? What is your talent? The Forest Committee welcomes you. Contact us at forest@cambriaforestcommittee.org and we will put you to work.
In 1985, The Land Conservancy was selected as the implementing nonprofit agency as required for government agencies to operate the Transfer Development Credit Ordinance. Following the completion of the Cambria-Lodge-Hill Restoration Plan, the TDC program received seed money from the state Coastal Conservancy to begin retiring lots. Lots retired from development are permanently restricted to open space and their development rights can be transferred to areas in Cambria where development is better suited and which will have a reduced impact on the health of the native Monterey pine forest. The County directs landowners who wish to exceed present county development standards to The Land Conservancy to purchase TDCs. That money is then used to purchase additional undeveloped lots and retire them from development, and the cycle continues.
In March 2016, after a four year hiatus, the Cambria CSD accepted 52 lots from the Land Conservancy. That allows the program to continue. Read the news report here.
The CSD established a Buildout Reduction Committee to move the program forward. Follow the committee's progress at the tab above.
Grant to remove dead trees
Cambria has been awarded a $498,736 grant to reduce the fire fuel hazard of dead trees. Read the Cambrian's coverage here.  Greenspace executive director Connie Gannon writes about how this can involve the Forest Committee here.
The Organizational and Funding Options for Implementation for the Cambria Monterey Pine Forest Management Plan is now posted on the Forest-Related Documents page. The Forest Management Plan is also posted there.

This site contains information about the Cambria Forest Committee including
The Committee meets on the 2nd Wednesday of the month at 6:30 pm at Rabobank on Main Street in Cambria. Everyone is welcome to attend.
Contact the Committee by e-mail:  forest @ cambriaforestcommittee.org
Contact us by mail at:  Cambria Forest Committee    PO Box 23   Cambria, CA 93428
Covell Ranch Fuel Break Information
View information about the Covell Ranch Fire Fuel Break plans on the Special Projects page.
Next Meeting: November 14, 2018 Rabobank, Cambria.  6:30pm  Open to everyone.