Oak and Shot Hole Borers are coming to eat our trees!
University of California Cooperative Extension, Cal Fire and others sponsored a workshop on Goldspotted Oak Borers and Invasive Shot Hole Borers May 9. These are two different beetles but they both affect our forests.  GSBs came to California on firewood and are being transported from Southern California around the state that way. They affect our Coast Live Oaks, infesting large, mature, healthy trees. They have not yet arrived in SLO County, but they are moving up from the south.
The key to preventing them from spreading is educating the public not to transport firewood. The bugs travel in the bark. Oak firewood is valuable, so after trees are taken down, the uninformed and the unscrupulous may haul firewood around. Website.
Invasive Shot Hole Borers don't eat the wood, but they infect the trees with a fungus that then kills the tree. Box Elders are especially vulnerable and may become amplifier trees that host millions of beetles and then infest all the trees around them.
Disneyland had a severe problem and sent some of their Tree Assessment Team to the workshop. The best strategy to manage them is to monitor and identify infested trees early on and spot treat them.
Forming an Emerging Forest Pest Committee could help. Cal Fire's Kim Corella offered to connect with the Forest Committee, Greenspace and the Cambria CSD to create a network in the event an infestation is found. One beetle was found in a trap in SLO County, so the assumption is that this is a When, not an If.
These entities, UC, Cal Fire, can help, but eradicating these pests is on us. Local and private organizations can act faster than government. SLO's city arborist said that as the city has grown, his budget and staff have been cut. He can only react to the most urgent situations, trees down and the like.
Orange County has already lost all its Box Elders. Visual surveys are the best way to identify infested trees. Individuals looking at trees are most likely to be the first ones to spot these pests. Check www.gsob.org, and www.pshh.org for detailed information on what to look for and how to ask for help to confirm whether the damage is from these insects.

Every Cambrian lives in the forest. We share our landscape with the trees and wildlife. Donate now to the Forest Committee to defray publication costs of Cambria's Guide to Invasive Weeds. Send a check for $8 (or more) to Cambria Forest Committee, PO Box 23, Cambria, CA 93428.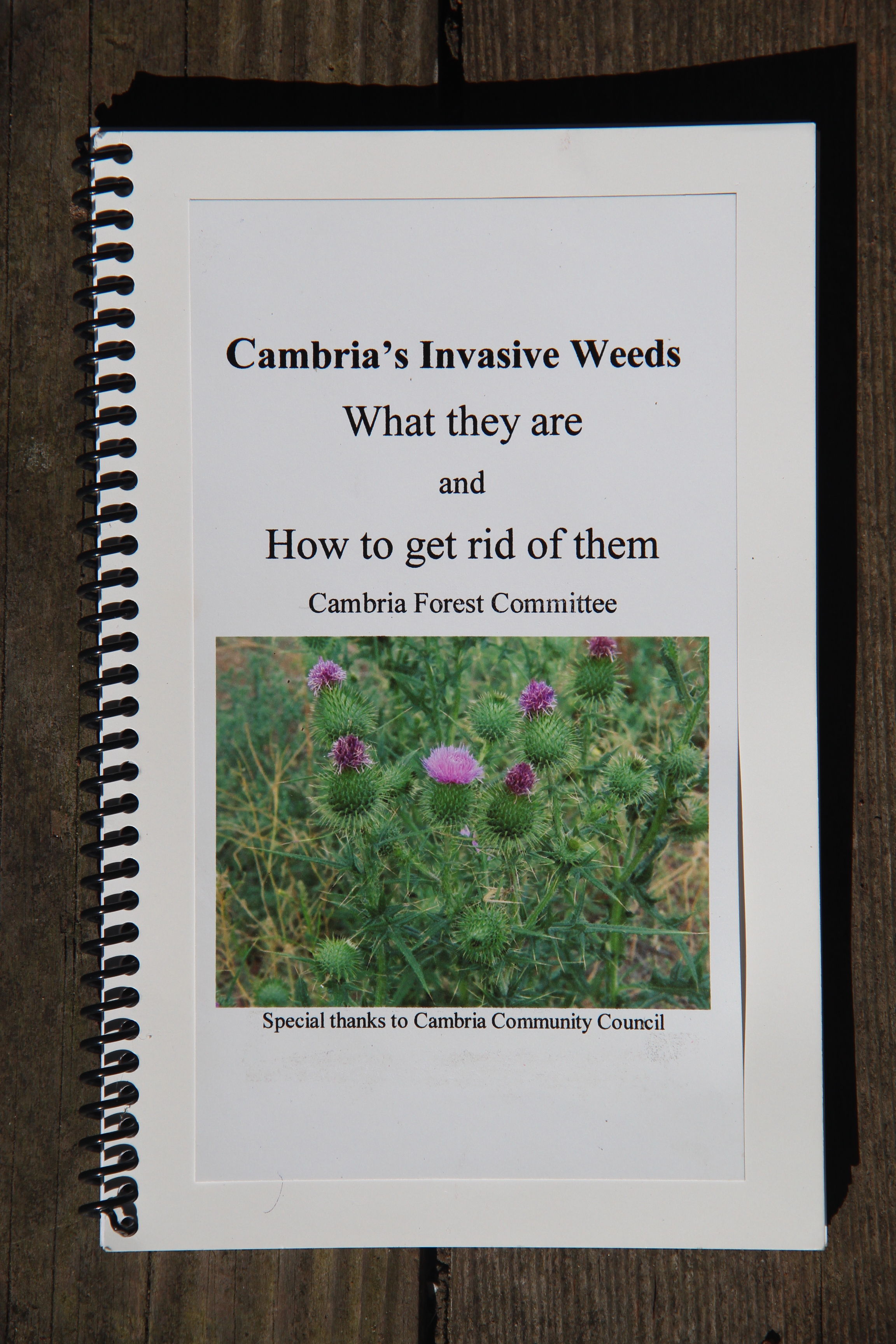 Weeds are taking over landscape and crowding out native plants. Weeds hurt the forest by changing the habitat for wildlife. they increase fire danger. Pull weeds on your own property and help your neighbors. Every weed you pull reduces the number of seeds that will sprout on your property next year. Connie Gannon, executive director of Greenspace–The Cambria Land Trust and a member of the Forest Committee's board, wrote about it in The Cambrian.
Learn more about Cambria's Invasive Weeds by joining iNaturalist  on your tablet or smart phone. Find the Rogue's Gallery of Weeds and add your personal Worst Weed of Cambria. contact us at forest@cambriaforstcommittee.org with questions.
Download a copy of the Forest Committee's brochure, At Home in the Forest, from the Frequently Asked Questions page.
A brochure on Sudden Oak Death is now available on the Frequently Asked Questions page.
Read the Community Wildfire Protection Plan posted under Forest-Related documents.
Volunteer to help the Cambria Forest Committee preserve Cambria's Monterey Pine Forest.
Would you like to pull weeds, get rid of those nasty invasives that are creeping into our forest? Do you have computer skills? Would you like to use your artistic talent to create informational materials that convey the forest's beauty? What is your talent? The Forest Committee welcomes you. Contact us at forest@cambriaforestcommittee.org and we will put you to work.
In 1985, The Land Conservancy was selected as the implementing nonprofit agency as required for government agencies to operate the Transfer Development Credit Ordinance. Following the completion of the Cambria-Lodge-Hill Restoration Plan, the TDC program received seed money from the state Coastal Conservancy to begin retiring lots. Lots retired from development are permanently restricted to open space and their development rights can be transferred to areas in Cambria where development is better suited and which will have a reduced impact on the health of the native Monterey pine forest. The County directs landowners who wish to exceed present county development standards to The Land Conservancy to purchase TDCs. That money is then used to purchase additional undeveloped lots and retire them from development, and the cycle continues.
In March 2016, after a four year hiatus, the Cambria CSD accepted 52 lots from the Land Conservancy. That allows the program to continue. Read the news report here.
The CSD established a Buildout Reduction Committee to move the program forward. Follow the committee's progress at the tab above.
Forest Management Plan
The Organizational and Funding Options for Implementation for the Cambria Monterey Pine Forest Management Plan is now posted on the Forest-Related Documents page. The Forest Management Plan is also posted there.

This site contains information about the Cambria Forest Committee including
The Committee meets on the 2nd Wednesday of the month at 6:30 pm at Rabobank on Main Street in Cambria. Everyone is welcome to attend.
Contact the Committee by e-mail:  forest @ cambriaforestcommittee.org
Contact us by mail at:  Cambria Forest Committee    PO Box 23   Cambria, CA 93428
Next Meeting: June 12, 2019, Rabobank, Cambria.  6:30pm  Open to everyone.