Welcome!
Bryant Baker, Conservation Director for Los Padres ForestWatch, gave a presentation on wildfire at the February meeting. Watch the video here, Passcode: #z&5pvJA.
Significant subjects he addressed during his talk can be found at the following points:
00:00:00  Introduction
00:06:30  Begin Presentation
00:18:00  Community Wildfire Protection Plan
00:25:30  Forest Thinning
00:44:50  Structure Ignition Protection
01:06:44  Regrowth After Fire
01:10:15  Question and Answer – Discussion
02:28:22  End
See him here in an interview with Dr. Chad Hanson, forest and fire ecologist with the John Muir Project of Earth Island Institute and author of the new book, Smokescreen: Debunking Wildfire Myths to Save Our Forests and Our Climate. Read more about Bryant Baker and  Smokescreen here.
Camp Ocean Pines gets Monterey Pine trees
In December 2021, Cambria Community Council awarded the Cambria Forest Committee a grant of $650 for Monterey Pine restoration at Camp Ocean Pines. The CCC grant provides $250 for seedlings, which Greenspace will provide at half its usual rate; $150 for protective fencing and screening; $150 for holding and growing; cones; racks; and $100 for a steel planting stick. COP's goals are educational and experiential. Ten trees a month will be planted for five months.
Crosby and Laura Swartz, co-chairs of the Forest Committee, met with Channing Kaiser, COP's new Outdoor Education Director, to deliver the tree seedlings and planting materials and supplies in February 2022. They provided demonstrations of recommended tree planting techniques.
The first group of campers learned to plant the trees the first week of February. A second group is scheduled to follow in the second week.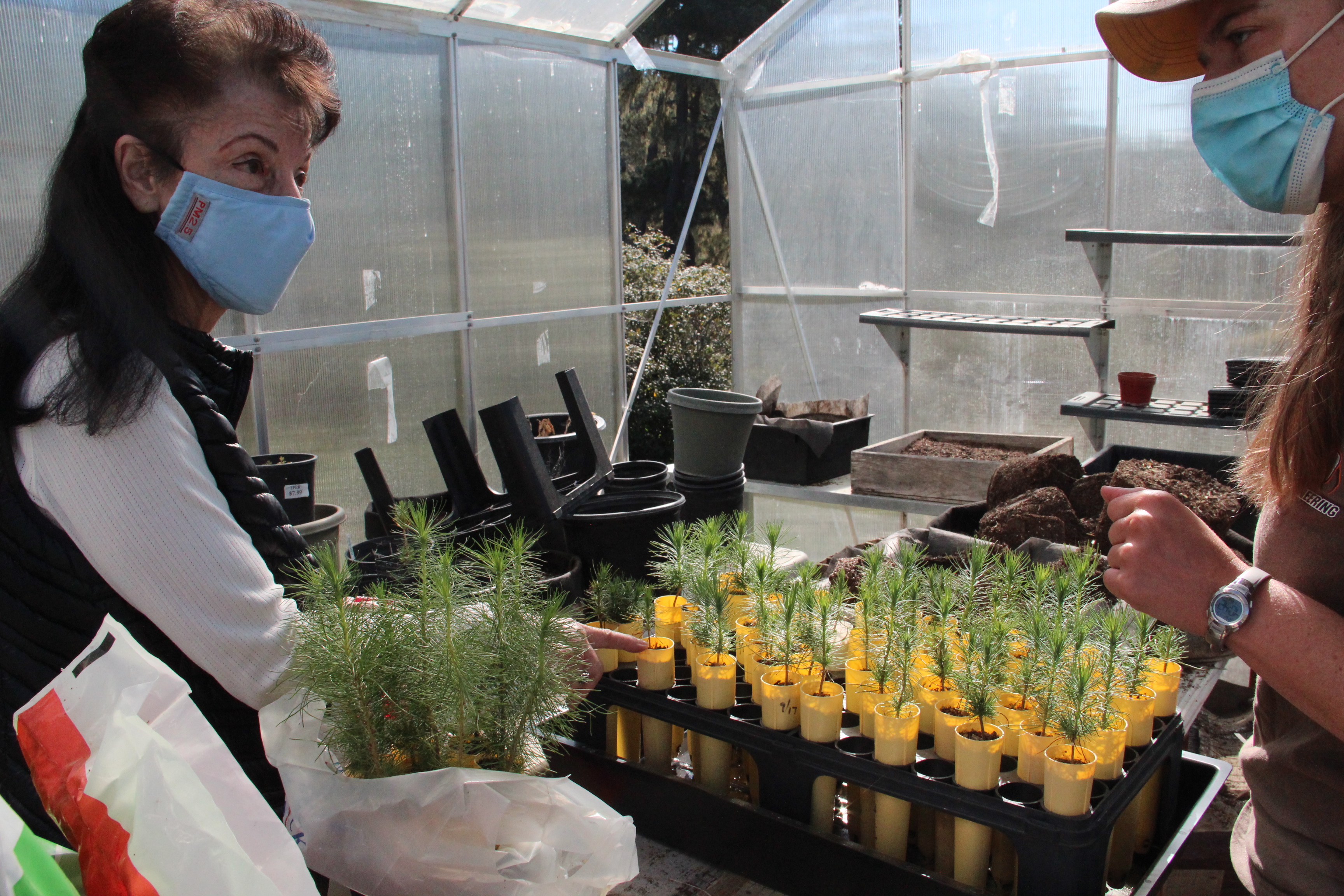 In the photo, Laura Swartz on the left and Channing Kaiser on the right discuss the tree planting project.
The Cambria Forest Committee is grateful to CCC for its support.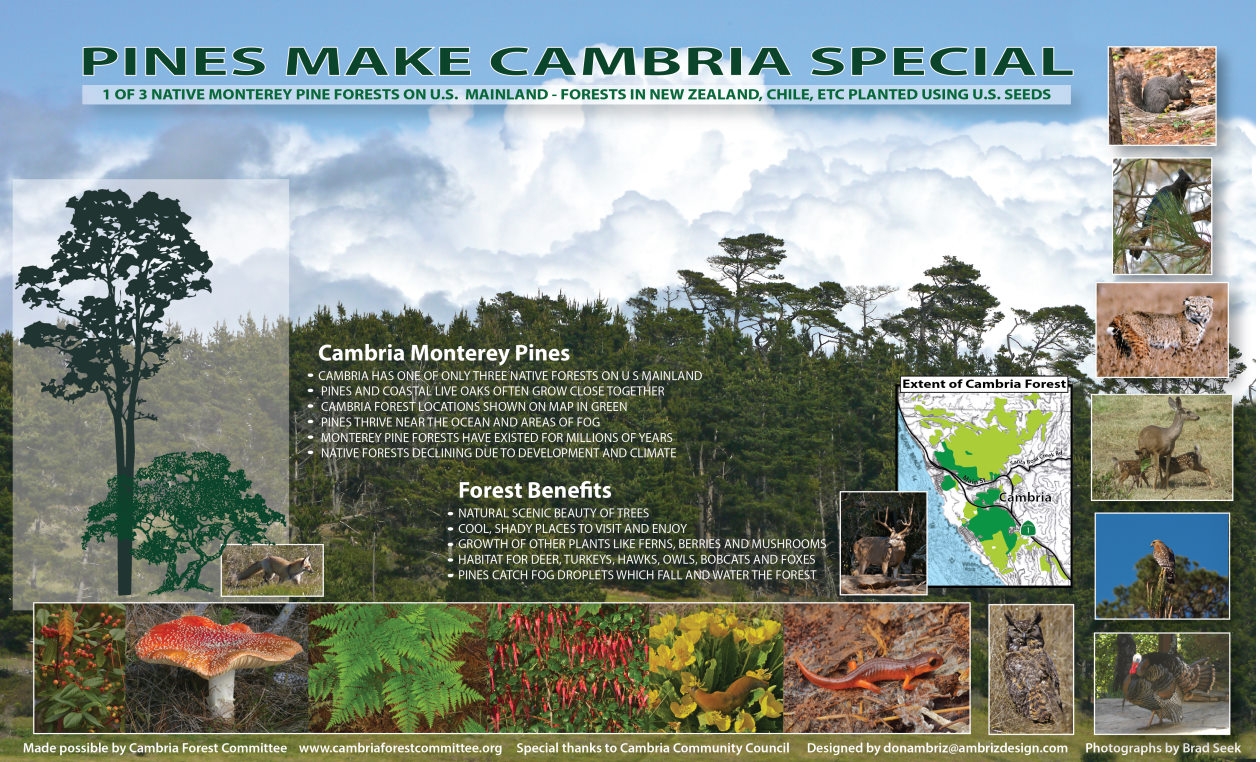 Invasive Weed Guide
Every Cambrian lives in the forest. We share our landscape with the trees and wildlife. Donate now to the Forest Committee to defray publication costs of Cambria's Guide to Invasive Weeds. Send a check for $8 (or more) to Cambria Forest Committee, PO Box 23, Cambria, CA 93428.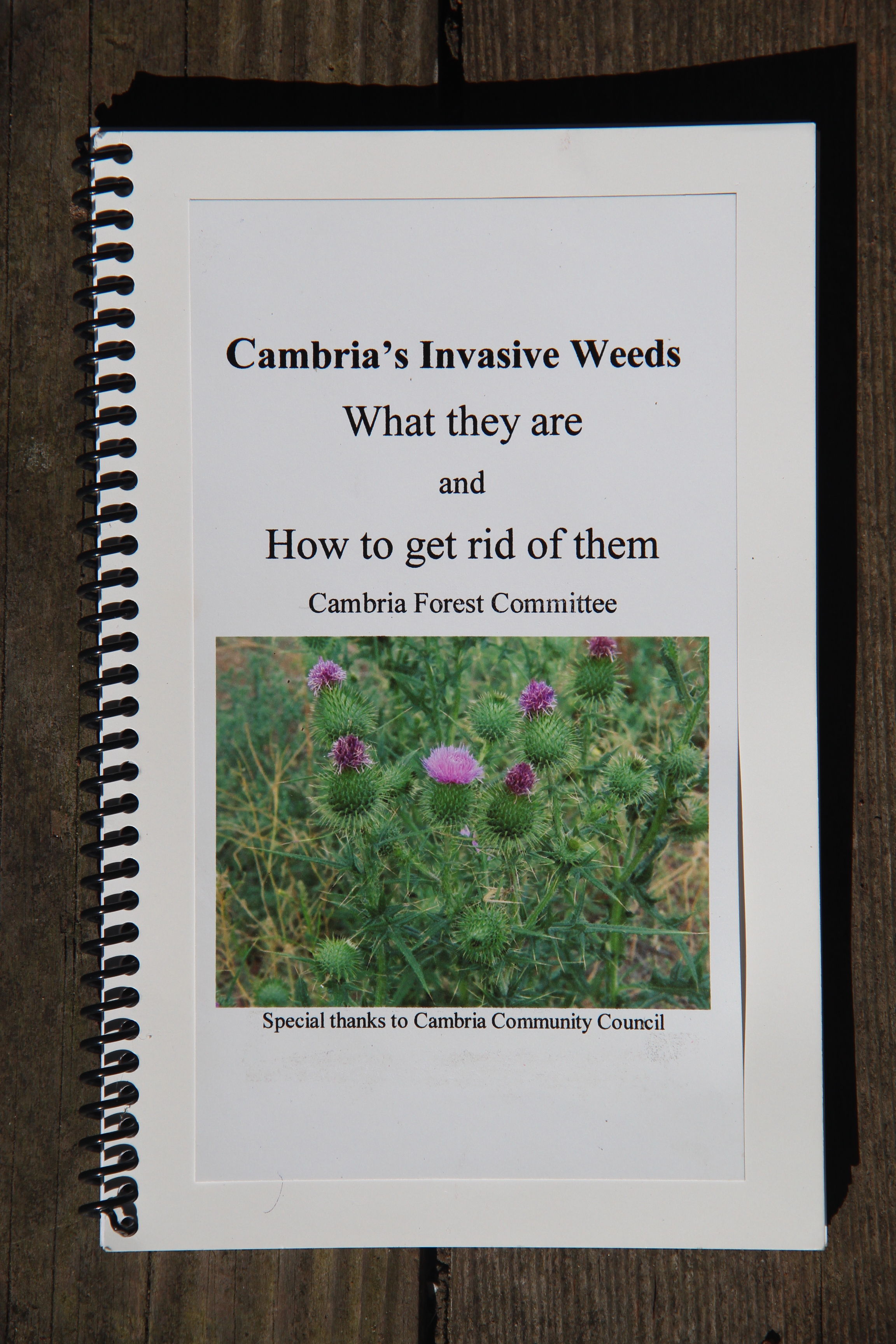 Weeds are taking over landscape and crowding out native plants. Weeds hurt the forest by changing the habitat for wildlife. they increase fire danger. Pull weeds on your own property and help your neighbors. Every weed you pull reduces the number of seeds that will sprout on your property next year. Connie Gannon, executive director of Greenspace–The Cambria Land Trust and a member of the Forest Committee's board, wrote about it in The Cambrian.
Learn more about Cambria's Invasive Weeds by joining iNaturalist  on your tablet or smart phone. Find the Rogue's Gallery of Weeds and add your personal Worst Weed of Cambria. contact us at forest@cambriaforstcommittee.org with questions.
Download a copy of the Forest Committee's brochure, At Home in the Forest, from the Frequently Asked Questions page.
Read the Community Wildfire Protection Plan posted under Forest-Related documents.
Volunteer to help the Cambria Forest Committee preserve Cambria's Monterey Pine Forest.
Would you like to pull weeds, get rid of those nasty invasives that are creeping into our forest? Do you have computer skills? Would you like to use your artistic talent to create informational materials that convey the forest's beauty? What is your talent? The Forest Committee welcomes you. Contact us at forest@cambriaforestcommittee.org and we will put you to work.
In 1985, The Land Conservancy was selected as the implementing nonprofit agency as required for government agencies to operate the Transfer Development Credit Ordinance. Following the completion of the Cambria-Lodge-Hill Restoration Plan, the TDC program received seed money from the state Coastal Conservancy to begin retiring lots. Lots retired from development are permanently restricted to open space and their development rights can be transferred to areas in Cambria where development is better suited and which will have a reduced impact on the health of the native Monterey pine forest. The County directs landowners who wish to exceed present county development standards to The Land Conservancy to purchase TDCs. That money is then used to purchase additional undeveloped lots and retire them from development, and the cycle continues.
In March 2016, after a four year hiatus, the Cambria CSD accepted 52 lots from the Land Conservancy. That allows the program to continue. Read the news report here.
The CSD established a Buildout Reduction Committee to move the program forward. The committee's report is posted at the link above.
Forest Management Plan
The Organizational and Funding Options for Implementation for the Cambria Monterey Pine Forest Management Plan is now posted on the Forest-Related Documents page. The Forest Management Plan is also posted there.

This site contains information about the Cambria Forest Committee including
The Committee meets on the 2nd Wednesday of the month at 6:30 pm. Everyone is welcome to attend.
Contact the Committee by e-mail: crosbyswartz99@gmail.com
Contact us by mail at:  Cambria Forest Committee    PO Box 23   Cambria, CA 93428
Next Meeting: April 13, 2022, 5:30 pm, remotely via Zoom. Email for link to participate.  Open to everyone.