Welcome!
Cal Fire, through the County Fire Safe Council and Upper Salinas-North Tablas Resource Conservation District, will reduce fuel on the Covell Ranch in an upcoming project. They propose to remove 70-80 percent of the trees eight inches or less in diameter.
The public can comment on its Project-Specific Analysis, per the Cal Vegetation Treatment Program Environmental Impact Report, posted here, Covell Ranch 2021_CAL FIRE CalVTP PSA_DRAFT FINAL. Comments are due by July 1. Questions? Contact the Cambria Forest Committee at forest@cambriaforestcommittee.org.
New Book
Smokescreen: Debunking Wildfire Myths to Save Our Forests and Our Climate, by Chad T. Hanson
Webinar available here.
Dr. Chad Hanson, forest and fire ecologist with the John Muir Project of Earth Island Institute, author of the new book, Smokescreen: Debunking Wildfire Myths to Save Our Forests and Our Climate as well as dozens of peer-reviewed studies, recently joined us for an excellent presentation and conversation about the misconceptions surrounding wildfire. Bryant Baker of Los Padres Forest Watch has provided a list of key moments in the video at that link.
Smokescreen cuts through years of misunderstanding and misdirection to make an impassioned, evidence-based argument for a new era of forest management for the sake of the planet and the human race. Natural fires are as essential as sun and rain in fire-adapted forests, but as humans encroach on wild spaces, fear, arrogance, and greed have shaped the way that people view these regenerative events and given rise to misinformation that threatens whole ecosystems as well as humanity's chances of overcoming the climate crisis.
Scientist and activist Chad T. Hanson explains how natural alarm over wildfire has been marshaled to advance corporate and political agendas, notably those of the logging industry. He also shows that, in stark contrast to the fear-driven narrative around these events, contemporary research has demonstrated that forests in the United States, North America, and around the world have a significant deficit of fire. Forest fires, including the largest ones, can create extraordinarily important and rich wildlife habitats as long as they are not subjected to postfire logging. Smokescreen confronts the devastating cost of current policies and practices head-on and ultimately offers a hopeful vision and practical suggestions for the future — one in which both communities and the climate are protected and fires are understood as a natural and necessary force.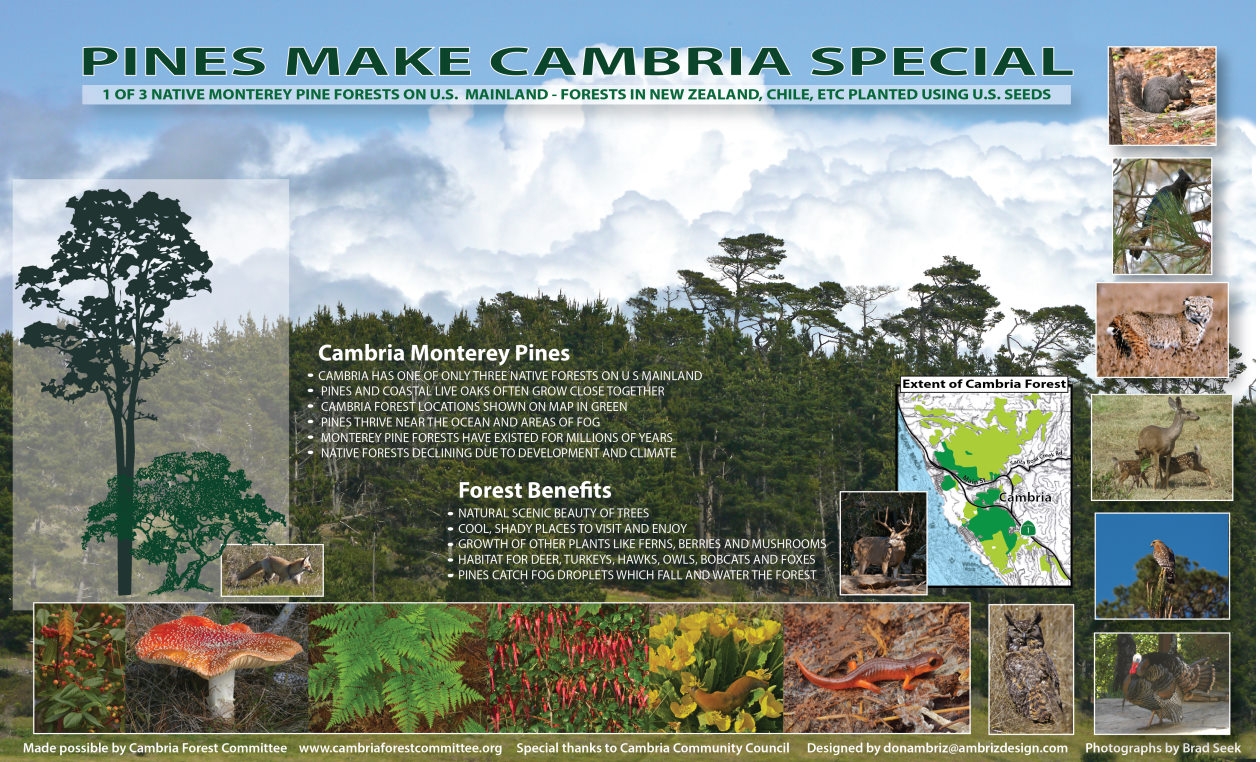 Invasive Weed Guide
Every Cambrian lives in the forest. We share our landscape with the trees and wildlife. Donate now to the Forest Committee to defray publication costs of Cambria's Guide to Invasive Weeds. Send a check for $8 (or more) to Cambria Forest Committee, PO Box 23, Cambria, CA 93428.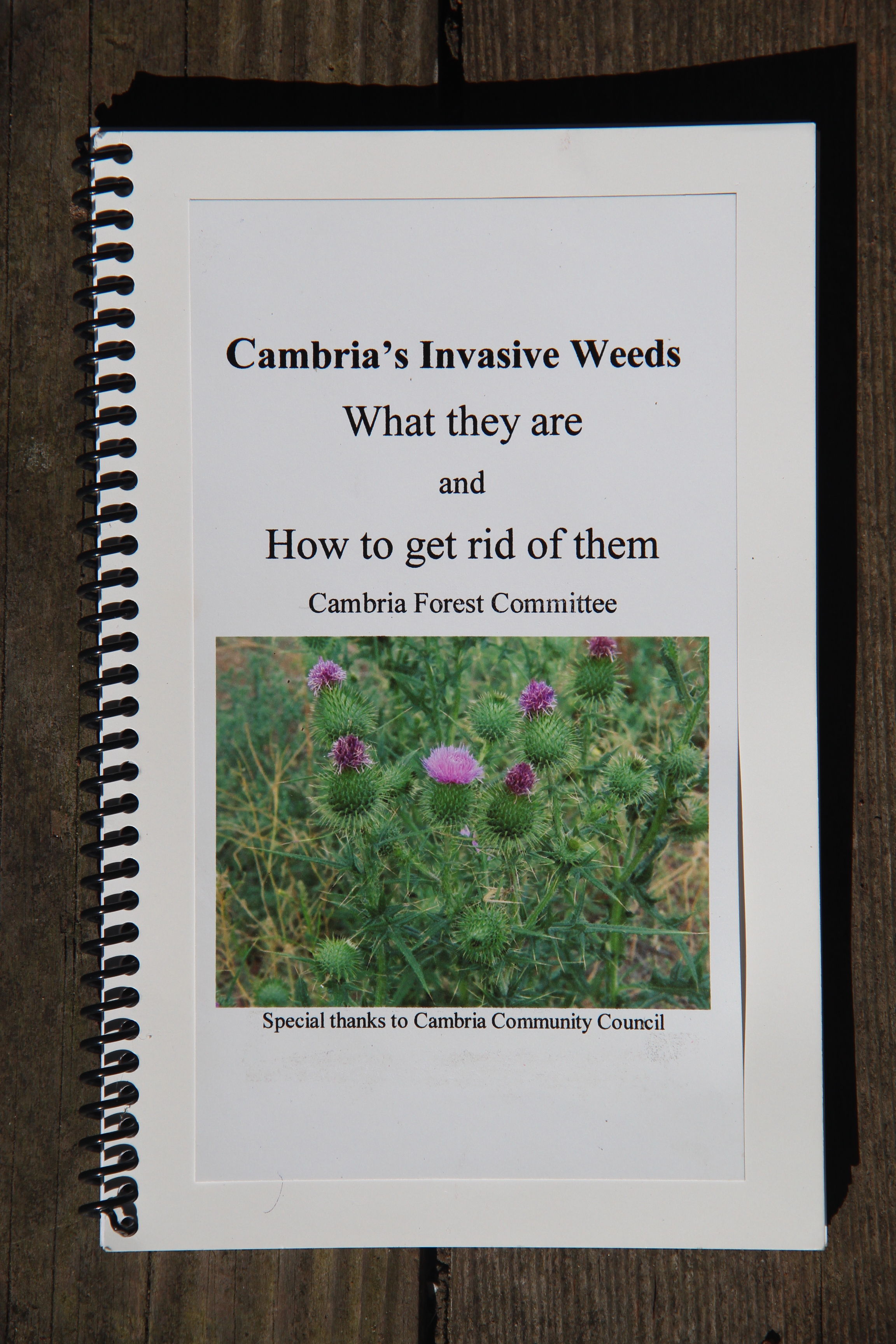 Weeds are taking over landscape and crowding out native plants. Weeds hurt the forest by changing the habitat for wildlife. they increase fire danger. Pull weeds on your own property and help your neighbors. Every weed you pull reduces the number of seeds that will sprout on your property next year. Connie Gannon, executive director of Greenspace–The Cambria Land Trust and a member of the Forest Committee's board, wrote about it in The Cambrian.
Learn more about Cambria's Invasive Weeds by joining iNaturalist  on your tablet or smart phone. Find the Rogue's Gallery of Weeds and add your personal Worst Weed of Cambria. contact us at forest@cambriaforstcommittee.org with questions.
Download a copy of the Forest Committee's brochure, At Home in the Forest, from the Frequently Asked Questions page.
A brochure on Sudden Oak Death is now available on the Frequently Asked Questions page.
Read the Community Wildfire Protection Plan posted under Forest-Related documents.
Volunteer to help the Cambria Forest Committee preserve Cambria's Monterey Pine Forest.
Would you like to pull weeds, get rid of those nasty invasives that are creeping into our forest? Do you have computer skills? Would you like to use your artistic talent to create informational materials that convey the forest's beauty? What is your talent? The Forest Committee welcomes you. Contact us at forest@cambriaforestcommittee.org and we will put you to work.
In 1985, The Land Conservancy was selected as the implementing nonprofit agency as required for government agencies to operate the Transfer Development Credit Ordinance. Following the completion of the Cambria-Lodge-Hill Restoration Plan, the TDC program received seed money from the state Coastal Conservancy to begin retiring lots. Lots retired from development are permanently restricted to open space and their development rights can be transferred to areas in Cambria where development is better suited and which will have a reduced impact on the health of the native Monterey pine forest. The County directs landowners who wish to exceed present county development standards to The Land Conservancy to purchase TDCs. That money is then used to purchase additional undeveloped lots and retire them from development, and the cycle continues.
In March 2016, after a four year hiatus, the Cambria CSD accepted 52 lots from the Land Conservancy. That allows the program to continue. Read the news report here.
The CSD established a Buildout Reduction Committee to move the program forward. The committee's report is posted at the link above.
Forest Management Plan
The Organizational and Funding Options for Implementation for the Cambria Monterey Pine Forest Management Plan is now posted on the Forest-Related Documents page. The Forest Management Plan is also posted there.

This site contains information about the Cambria Forest Committee including
The Committee meets on the 2nd Wednesday of the month at 6:30 pm. Everyone is welcome to attend.
Contact the Committee by e-mail:  forest @ cambriaforestcommittee.org
Contact us by mail at:  Cambria Forest Committee    PO Box 23   Cambria, CA 93428
Next Meeting: 6:30pm, July 14, 2021, remotely via Zoom. Email for the link to participate.  Open to everyone.